4.19: PACs, Super PACs, and Unions in the Media
Special Interest Groups, Political Action Committees (PACs), and Labor Unions are constantly engaging in political advocacy through advertising. They devote enormous amounts of time and resources to persuading voters and citizens to support their positions on issues and candidates.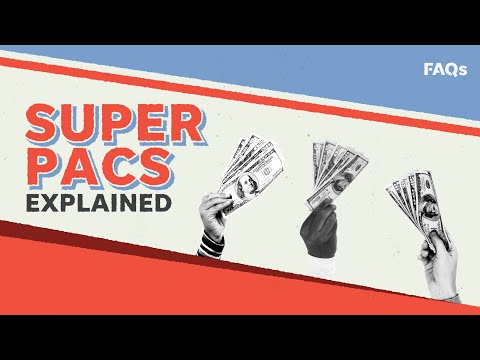 Watch on YouTube https://edtechbooks.org/-EXe
In the past, these organizations relied mainly on newspapers, direct mail, and television advertising to influence voters and citizens.
However, when running for President in 2008, Barack Obama's campaign changed the political advertising landscape by using social media posts and online ads to reach voters. Since then, the amount of money spent on online ads has gone from the millions to the billions and continues to grow with every election cycle on Facebook and Google and other online platforms. Many of these ads are carefully designed to microtarget specific groups with specific messages.
Paradoxically, as the American Bar Association has pointed out, "lying in political ads is also perfectly legal" because what is said is considered political speech and that is protected under the First Amendment (Political Advertising on Social Media, June 26, 2020). As a consequence, misinformation and disinformation keeps reappearing during and after elections, including in 2021 with the "Big Lie" that the 2020 Election was stolen from the former President.
In these activities, you will examine the relationship between PACs and labor unions and the media and consider how these organizations' use of and inclusion in the media influences voters and shapes democracy.
Activity 1: Evaluate Political Action Committee (PAC) Advertisements
Curate a digital collection of political ads from PACs during the 2020 election. Here are some examples you might include:
Use the Teacher and Student Guide to Analyzing Advertisements to critically evaluate the ads.
Closely look at the information provided in the ads - Did you find any potential inaccuracies and misinformation in their appeals to voters? (see Super PAC ad attacks Comey before testimony). Were some PACs less truthful than others? Why do you think that might be?
Based on your analysis, create a social media campaign to bring awareness about how PACs seek to influence voters and shape democracy through ads.

The social media campaign should include at least 2 videos (e.g., YouTube, Snapchat, TikTok), 5 example posts, and 3 images (e.g., memes, graphics, infographics) designed by you.
Here is a social media campaign example created by Justin Lo, Daniel Mulno, and David Warde and here is a Twitter campaign example by Sara Shea.
Activity 2: Investigate the Portrayal of Unions in the News
Many prominent news sources have sections of their websites dedicated to labor unions.
Select at least 3 stories from each of the following news outlets:

Then, use the Teacher and Student Guide to Analyzing News & Newspaper to conduct a critical evaluation of the articles you selected.
Create a

TikTok

video,

Snapchat

video, or social media post in which you discuss how the news portrayal of unions influences citizens, voters, and democracy.
Additional Resources
Connecting to the Standards

CC BY-NC-SA: This work is released under a CC BY-NC-SA license, which means that you are free to do with it as you please as long as you (1) properly attribute it, (2) do not use it for commercial gain, and (3) share any subsequent works under the same or a similar license.